By Candice Peroli Cortes
Candice Peroli Cortes is an aesthetician specializing in brows and lashes, semi-permanent makeup and tattoo removal. She's also a mother of two who runs several businesses. Candice knows that moms need to feel like their best selves, but have limited time (and concern) for spending hours in front of a mirror. Here Candice gives us some of her top tips and products for how to look your best, even in a hurry.
As a busy mom, wife, and business owner, I struggle with finding a few minutes of me time every day! With the responsibilities of taking care of the kids, the household, and my business, it's a constant rush to get things done. It is essential to carve out some time to give yourself a little TLC.
Feeling good about yourself is not a luxury; it's an absolute necessity that will give you the energy and enthusiasm to keep up. In honor of all my fellow busy ladies, I am so excited to share my top six time-saving tips and products to help you stay beautiful, polished, and ready to take on life's daily challenges while looking and feeling great!
1. Exfoliate
Our skin is naturally, and constantly, shedding its own dead cells. When these dead cells are shed, they sit on the surface of our skin, ready to be swept away. If they don't, they can get caught in our skin's natural oil and clog our pores, leading to blackheads and whiteheads. Worse, if bacteria finds these dead cells and sebum, our pores can become infected, and this is when inflammatory acne forms. One of my absolute favs is M3 Naturals Activated Charcoal Scrub.  If you are looking for a flawless complexion the natural way, this is it!
Try M3 Naturals Charcoal Scrub 
2. SPF
I am always stressing the importance of SPF to everyone I come in contact with! Yes, really!  I have had basal cell carcinoma three times. You must protect your skin from sun damage and skin cancer.  Opt for an SPF that contains zinc oxide, such as Drunk Elephant Umbra™ Sheer Physical Daily Defense Broad Spectrum Sunscreen SPF 30. Drunk Elephant strives to use only clean ingredients too!
Try Drunk Elephant's Sheer Physical Daily Defense Broad Spectrum SPF 30 
3. Moisturize/Treat
Day and Night, after I cleanse my face I ALWAYS apply Amalie Beauty's Shine Organic Brightening Oil. The heavenly scent of jasmine scent is what first sold me.  It adds a super concentrated amount of hydration, brightening and helps to correct fine lines and sun spots. I love this product so much I even include it into my dermaplaning treatments at my office! My clients are just as obsessed!
Try Amalie Beauty Shine Organic Brightening Oil 
4. CC Creams
OK, I wear this every day! It Cosmetics Your Skin but Better CC Cream With SPF 50+. See SPF for the win!  It provides heavier coverage than your average CC cream, but doubles as an anti-aging serum thanks to peptides, niacin, vitamins A, C, B, and E, and hyaluronic acid. It Cosmetics also expanded their shade collection earlier this year.
Try IT Cosmetics Your Skin But Better CC Cream with SPF 50+
4. Cleansers
Girl, you better wash your face! Especially before going to bed! Going to sleep with your makeup on continuously will age you faster. Everyone's skin care needs (and reactions) are different, so be sure to consult with you dermatologist as to which cleanser might be best for you. My skin needs tend to change like the weather so I try to use mild cleansers like Mario Badescu Glycolic Foaming Cleanser and Julep Love Your Bare Face Hydrating Cleansing Oil.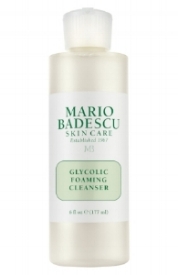 Try Mario Badescu Glycolic Foaming Cleanser 
Try Jelup Love Your Bare Face Cleansing Oil 
5. Hair Care
Gone are the days of showering when I want. Well that's my current situation right now with two kids under 4! I think I have tried just about every dry shampoo out there, but it's not one-size-fits-all. Once you find the right formula for you, it's real game changer. For extra volume, fluff your locks with the hairdryer and a round brush for a couple of minutes.
*Note: dry conditioner is a fun added bonus and I am loving it!
Try Urbanfitco. Day Two Dry Shampoo 
6. Wipes
When I am pressed for time or traveling for work, beauty wipes are a lifesaver!
Makeup remover wipes can be thrown into your purse, placed in your bedside drawer, or even in your travel bag to be used virtually anywhere, anytime. These shouldn't replace your cleansing routine but are perfect for days when you have to take a shortcut.
Try Burt's Bees Micellar Cleansing Wipes