Our dear friend, holistic health coach and mom of (almost) 2 shared one of her favorite recipes with us. These meatballs are a recipe Daniela conceived when she was 38 weeks pregnant and channeling her nutrition know-how into postpartum prep.
We love this recipe because it's full of protein, leafy greens, fiber and even milk boosters (full list of benefits below the recipe). On top of that, the finished product tastes delicious. Whole, superpower foods, combined into a delightful, convenient snack? Gimme.
With no further ado, here it is. Enjoy, babycakes!
---
Yield: About 35 mini meatballs
Ingredients
1 lb. protein of your choosing:

Organic ground grass-fed beef, bison, turkey, chicken, or a combination

Vegan option: cooked lentils or beans, smashed well with a fork

2 Tbsp flaxseed meal (ground flaxseeds) + 5 Tbsp water

1-2 tsp avocado oil

6-8 mushrooms, finely chopped

½ small yellow or white onion, finely chopped

2-3 large handfuls fresh organic spinach or any leafy green, chopped

2-3 cloves fresh garlic, finely chopped or pressed through a garlic press

Fresh herbs: small handful parsley or basil (or both), finely chopped

1 tsp dried oregano

½ cup organic gluten-free rolled oats, pulsed in a blender for a few seconds until course breadcrumb consistency is achieved

½ tsp sea salt + fresh cracked pepper to taste
Method
Preheat oven to 375° F.

TIP: If you have a food processor, use it to pulse your onion, garlic and veggies and save a lot of time chopping!

In a cup or mug, mix the flax seeds and water well, and let sit while you prepare your other ingredients (or at least for 5-10 minutes)

Warm avocado oil in a large pan over medium heat, then add onions and sauté for 2-3 minutes with a pinch of salt. Add mushroom and sauté for another ~4 minutes. Then add spinach and garlic and sauté 1-2 more minutes or until the greens have wilted.

Transfer your cooked veggie mixture to a large bowl and combine with your raw ground meat or cooked and mashed lentils or beans, pulsed oats, flaxseed "gel", salt, pepper, and fresh or dried herbs.

Form into bite sized meatballs and arrange on a parchment lined baking sheet. Recipe should yield 30-40 meatballs depending on the size of each.

Bake for 12-18 minutes, depending on size of meatball. For small meatballs, I bake for 8 minutes, then flip them, and bake for another 5-10 minutes.
Serving suggestions:
Serve over a bowl of sautéed zoodles (zucchini noodles), baked spaghetti squash, or your favorite pasta with marinara sauce or simply olive oil, cracked black pepper, and fresh pressed garlic.

Make a meatball veggie soup: Start by sauteing some carrots, celery, garlic, and onion, then add bone broth (or veggie broth) and bring to heat. Add a big handful of leafy greens and then drop meatballs into the soup and season with your favorite fresh herbs or spices.

Use toothpicks (or fingers :)), and dip into Dijon mustard for an anytime power snack.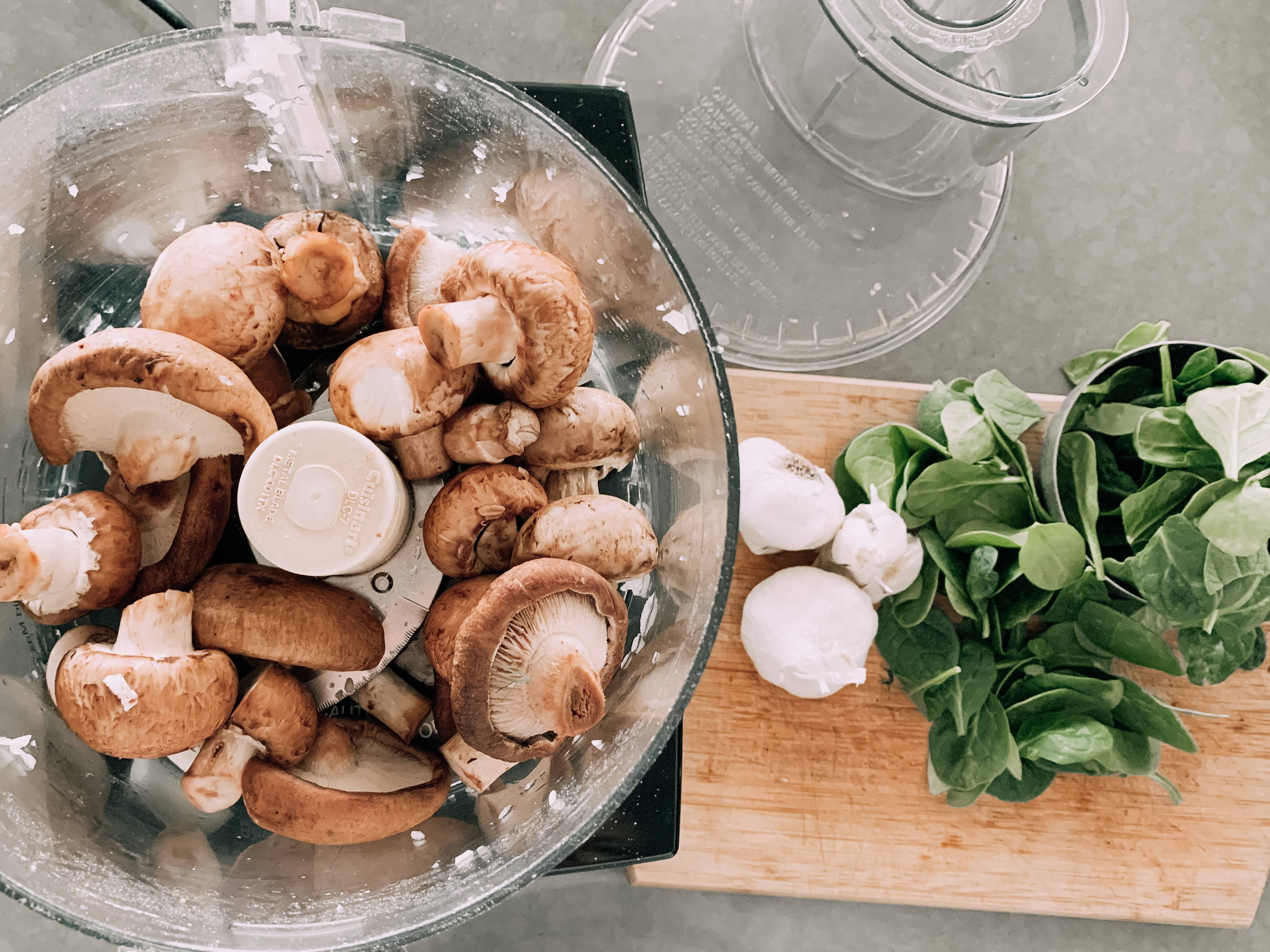 Mama Complete Meatballs: INGREDIENT BENEFITS for Postpartum and beyond:
Protein: (ex: bison, beef, turkey, chicken, lentils or beans)
Proteins are made up of amino acids, which are the building blocks of the body, repair body tissue, and improve strength and stamina. All of which are vital for an easier postpartum recovery!

I recommend including a variety of protein sources, ranging from organic grass-fed animal proteins to plant-based sources like beans and legumes in order to benefit from a wide range of amino acids and lessen your chances of developing a deficiency.
Flaxseed:
Flaxseeds are my favorite postpartum digestion aid. Their high fiber content and gel-like consistency once soaked in water helps to relieve postpartum constipation. Flaxseeds are also a fantastic lactation support food, due to their phytoestrogen content and fatty acids that can help boost milk supply.
Oats
Oats, like flaxseeds, contain plant estrogens that have been associated with boosting milk supply. Oats also contain a special fiber called Beta-glucan, which can increase your level of prolactin, your body's milk production hormone. In this recipe, we balance the complex carbohydrates from oats with protein and fat to curb carb cravings without spiking blood sugar and causing an energy crash.
Garlic, Onion, & Mushroom:
Garlic, onion, and mushrooms are some of the very best foods you can eat to support your immune system. Their powerful plant compounds interact with the immune system to strengthen its ability to more effectively destroy cold and flu viruses, lessening your chances of getting sick and speeding up recovery when you do. While all mushrooms are helpful, shiitake mushrooms are immune system superstars.
Dark Leafy Greens:
Leafy greens are chock full of phytonutrients that support your postpartum healing across all systems of the body, from immune support to milk supply. Dark leafy greens are rich in the vitamins and minerals -- including folate, calcium, and iron -- that are most commonly depleted during pregnancy and breastfeeding. To absorb the full spectrum of vitamins available in greens, combine them with a bit of healthy fat like we do in the meatballs.